As I'm just getting started on a new cake, I thought I'd post some of my previous ones…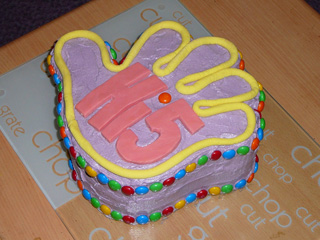 When I was young I always made cakes for my family, especially my little sister as she grew up. After not making any for a few years I was excited to make birthday cakes for my own kids. This is Anastasia's 2nd birthday cake from December last year.
Even a few months ago though, I had little idea about 3d sculpted cakes, I barely knew they existed let alone had any thoughts of making them. Just before my youngest's 1st birthday a friend showed me some 3d cakes she'd made using fondant. I was amazed at what she'd done and what was possible. I made, what I sure was, the most elaborate Dorothy the Dinosaur cake ever made (little did I know).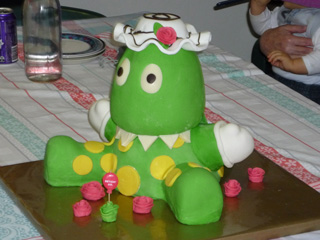 Proud of what I'd done, but having learned a great deal from the mistakes I'd made, I started to investigate further, scouring the net for more examples and information. I couldn't believe my eyes. What I'd made was quite basic compared to many of the creations I'd found, and I'd found a new passion. I had to learn more. I spent a few weeks absorbing as much as I could, seeing what was possible, trying to find out how it had been done, and planning how I could use all this new information to make bigger and better cakes. A friends birthday was coming up, a great opportunity to get some more practice in. I was a bit bolder with this one, which unfortunately came back to haunt me…