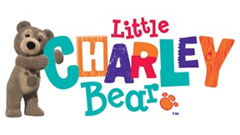 In an interview with the West Australian, Keith Chapman (Bob the Builder, Fifi and the Flowertots, Roary the Racing Car) says of Little Charley Bear:
"this pilot came in which was one of the most impressive things I'd ever seen and I just fell in love with Charley".
I'd assumed Chapman Entertainment liked the pilot, as they picked it up to produce the show, but for Chapman to specifically say that about the pilot that I designed and animated is a great compliment.
The first 26 episodes have now aired here in Australia on ABC2. Charley was the only character in the pilot so it's nice to see he's got some new friends. I have noticed there are a few problems that I resolved when working on the pilot that have managed to slip back into the episodes, such as Charley being very washed out, posing/motion problems, and some other issues. Making the transitions between Charley's real world and imaginary world seamless would also do wonders. If anyone from the production is reading this and wants to know how I was able to solve those problems, please send me an email. I'd love to help.
In Australia you can see repeats of Little Charley Bear on ABC2 at 1:20 and 6:15 every day.