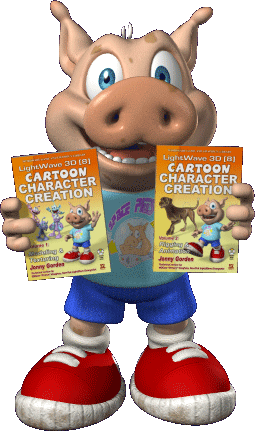 I wrote a couple of books a few years ago: Cartoon Character Creation – Volumes 1 & 2.
I always planned to post some excerpts here, but never got around to it. Last year, working on Chuggington with the fantastic animators at Motion Magic in China, I realized that while I have changed some of the ways I work since writing the books, the core information and methodologies remain the same, and is still very useful information that many animators aren't aware of.
Since Chuggington is animated using Maya, and those animators were benefiting from this knowledge, it further impressed upon me how universal the information is. I was always disappointed that the books were tied to LightWave 3D 8 since so much of the information applied to 3D characters and animation in general, regardless of which software was being used. I guess this is also my chance to share that information with a wider audience.
Continuing from part 1, I'll discuss each of the eye morphs.
Note: In LightWave, morph targets are called 'Endomorphs', in Maya they're called 'Blend Shapes' and in Blender they're known as 'Shape keys'. For simplicity here I'll just refer to them as 'Morphs'.
Eye Morphs
The eye morphs include the motion and expression of the eyelids and eyebrows.
Before we move on to the morphs, let's take a look at the base models for the characters used in the following examples.
I've included a range of characters for the examples. Each character has slightly different requirements, so you can see the differences for each morph. For the eye morphs I've included Taylor (top-right, Taylor appears courtesy of Live Bait Productions) to show examples of the eye morphs for a character without any eyebrows.
When you're creating your base character, try to make its expression as neutral as possible. Often the concept sketches for a character show it smiling or showing some sort of emotion. If you model emotion into the base character it makes creating and animating the facial features much more difficult, so remember to model it in a neutral expression, allowing the morphs and animation to do the job of expressing emotion.