Here we are at the final installment, part 4 of the making of Elmo. Wow, I certainly didn't intend for it to be anywhere near this long when I started. In Part 1 I talked about planning the cake, making the stand and making the icing. Part 2 covered making and carving the cakes. In Part 3, rice crispies were made and molded into arms, legs, eyes and nose, and blocks and toys were created.
Since last time, the carved cake and rice crispies arms and legs have been in the freezer, firming up the rice crispies. The eyes, nose and blocks have been covered with fondant and overnight you'll notice they've hardened quite a bit since making them, hard enough that you can easily handle them without fear of putting dents in them. If you've made them a few days in advance, by the time you get to this stage they'll be very firm. Finally the cake is almost ready for the final coat of icing, the fur, but first we need to make the smash cake.
Smash Cake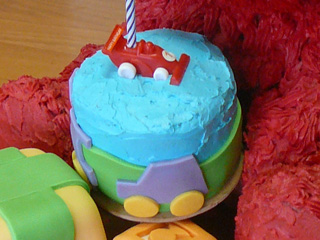 You can really do anything with this cake that you like, decorate it however you want. I based mine on a cute cake I'd seen online, but running out of time, I rushed it. I would have liked to put a bit more time into it. I also had special requirements for this smash cake, as the birthday boy has lots of food allergies. The cake was gluten free, and the butter cream icing was made from special margarine. The fondant was designed so it could be easily pulled off before serving. All these considerations went into the design of the cake, but you can do whatever takes your fancy. It's quite fun making a mini cake like this.